I know you've heard me say this before and I'll say it again, Yosemite National Park is the most magical place on earth. Being a Yosemite elopement photographer has been a dream of mine since I picked up a camera since the park means the world to me, has ever since I was a kiddo camping in the valley. I have a long history with Yosemite and adore every chance to visit, especially when it means documenting a sweet day for a couple.
Rachel + Joel met when she started doing Crossfit at a local gym Joel was coaching at. They began adventuring together and soon realized they were perfect for each other. When Rachel and I first started talking, she and Joel and just spent her birthday weekend hiking in Acadia National Park. She told me that they had decided on eloping in Yosemite National Park because it was a perfect way to capture the adventurous spirit of their relationship together. I was all for making that dream come true! We started making plans for their day and I put together a list of amazing vendors who I knew would be up for the adventure.
As things came together, I quickly realized that I'd need to stay in the valley for a few weeks in order to really capture their elopement along with a couple of others I'd be photographing. It's important to me to be truly present when I photograph elopements. I like to have peace of mind leading in and being in a location early really helps with that. I always want to be able to give my all to every elopement. You could say I was happy about doing that in Yosemite. I quickly decided the best way to do this would be to camp in the valley at one of my favorite spots. Since I'd have gear and would need a home base to work from, I opted for renting a camper van to test out Yosemite van life. It was one of the best adventures I've experienced! I spent the day with a great mix of hiking and working on projects and my evenings were free to enjoy campfires along with starry skies. I even had a few photographer friends drop by and stay with me! But the best part was getting to work with Rachel + Joel's florist Sarah of The Flower Method first hand.
Sarah and I had been friends since the first time I photographed an elopement in Yosemite back in March 2017 as she did florals for that day. We camped together for a couple of days and on the morning of the elopement, I documented as she built Rachel's bouquet and created a boutonniere for Joel. It was such a fun experience seeing how her wild flowers came together so beautifully. I love her outlook on floral design as well as her philosophy of being hands-on at elopements. She prefers to come along, make sure the flowers are doing well, kept styled, and I just think that's so unique! It's what makes her an expert on adventure elopement florals.
Freshly crafted florals in hand, we headed over to meet Rachel + Joel near Cook's Meadow. Rachel quickly got changed while I guided Joel to a great spot for their first look. Once set, Sarah brought Rachel over and we let the magic unfold.
After this sweet first look in the valley, we made the trek up to Taft Point to meet up with their officiant Celebrant Cindie. Cindie is a true gem! She is up for the adventure of hiking out to dreamy ceremony locations and she really takes the time to learn about her couples. I heard so many heartfelt sentiments through Rachel + Joel's ceremony, it was a really beautiful time.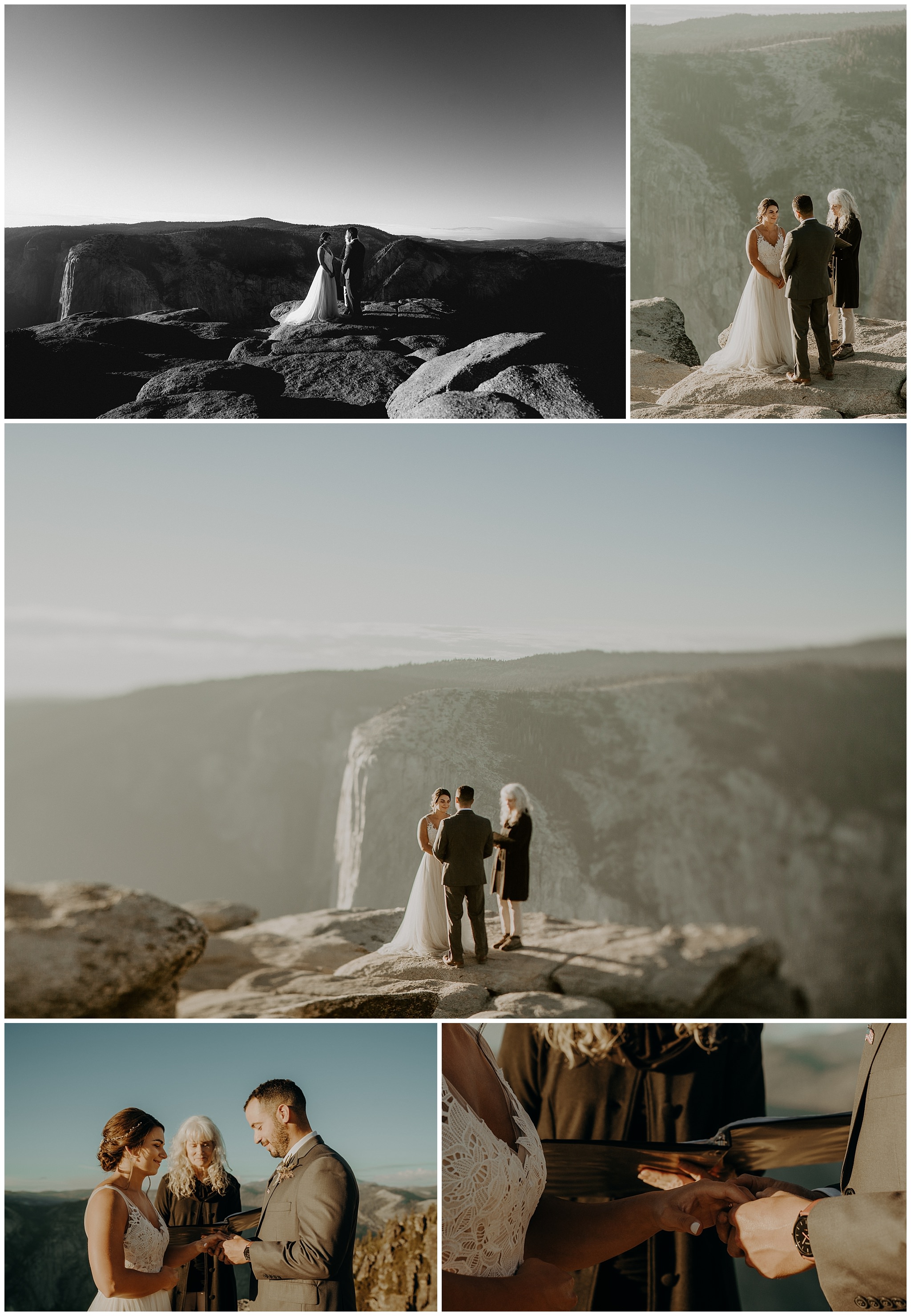 With vows exchanged and everything official, we took a little time to enjoy the sunset.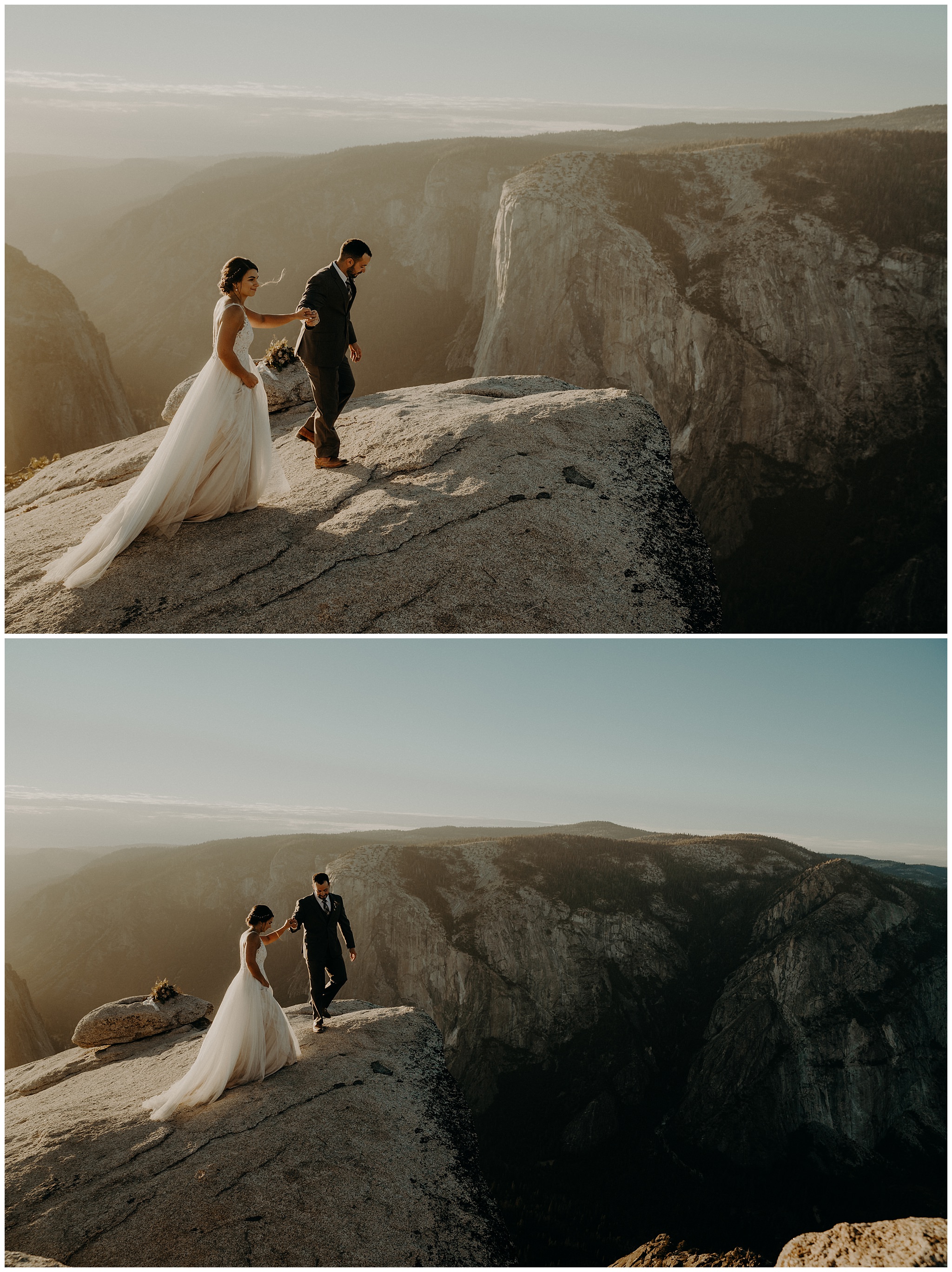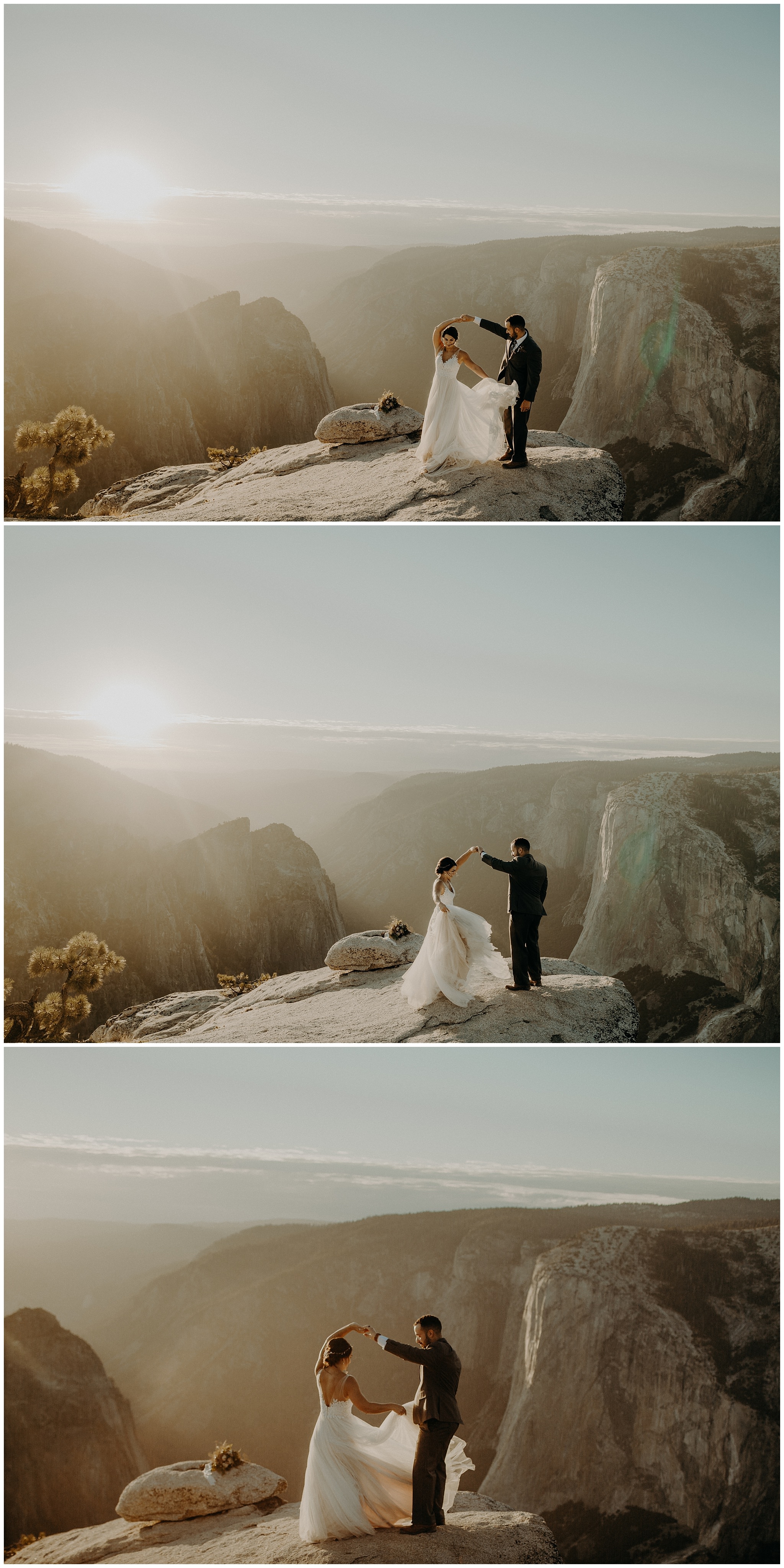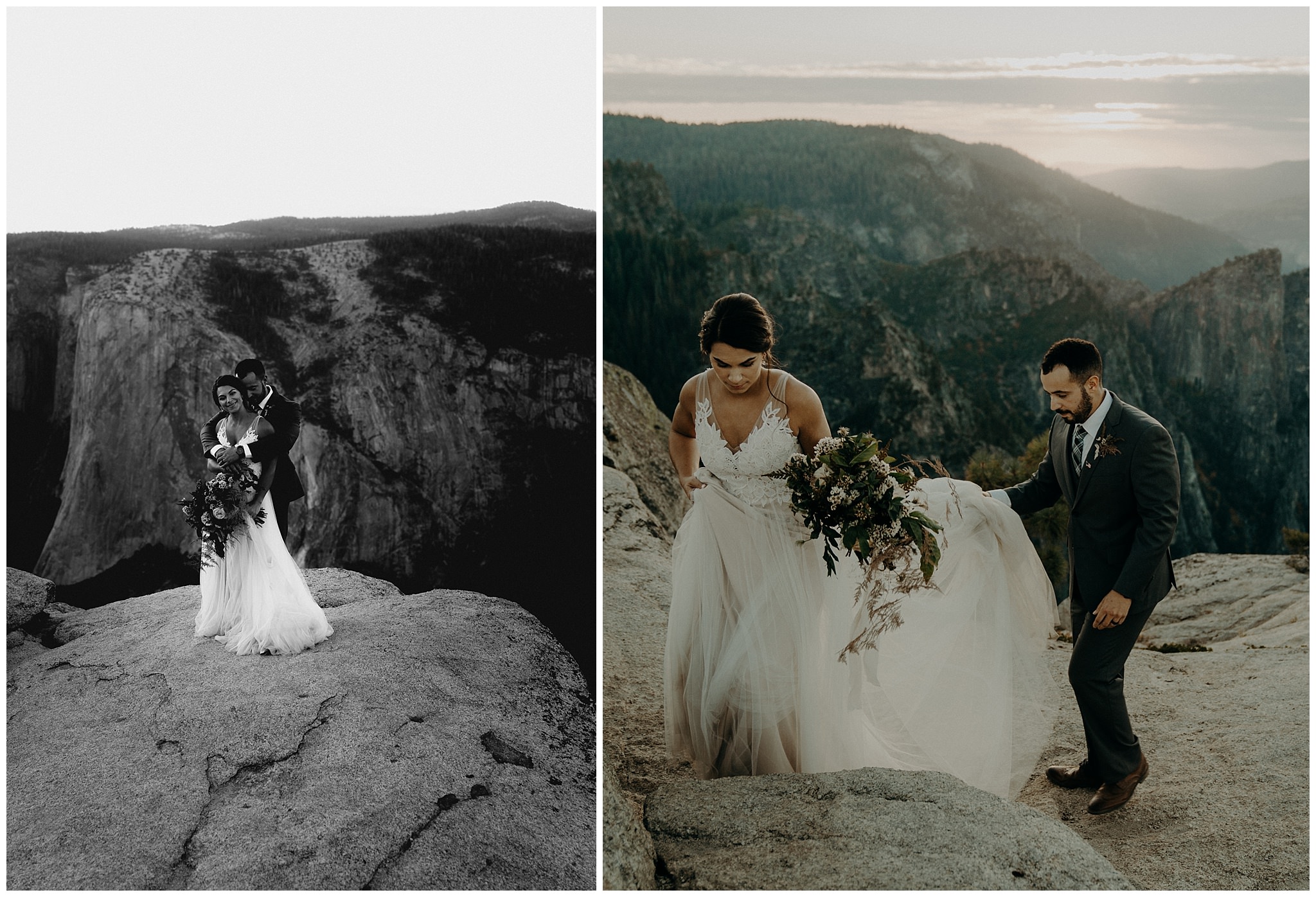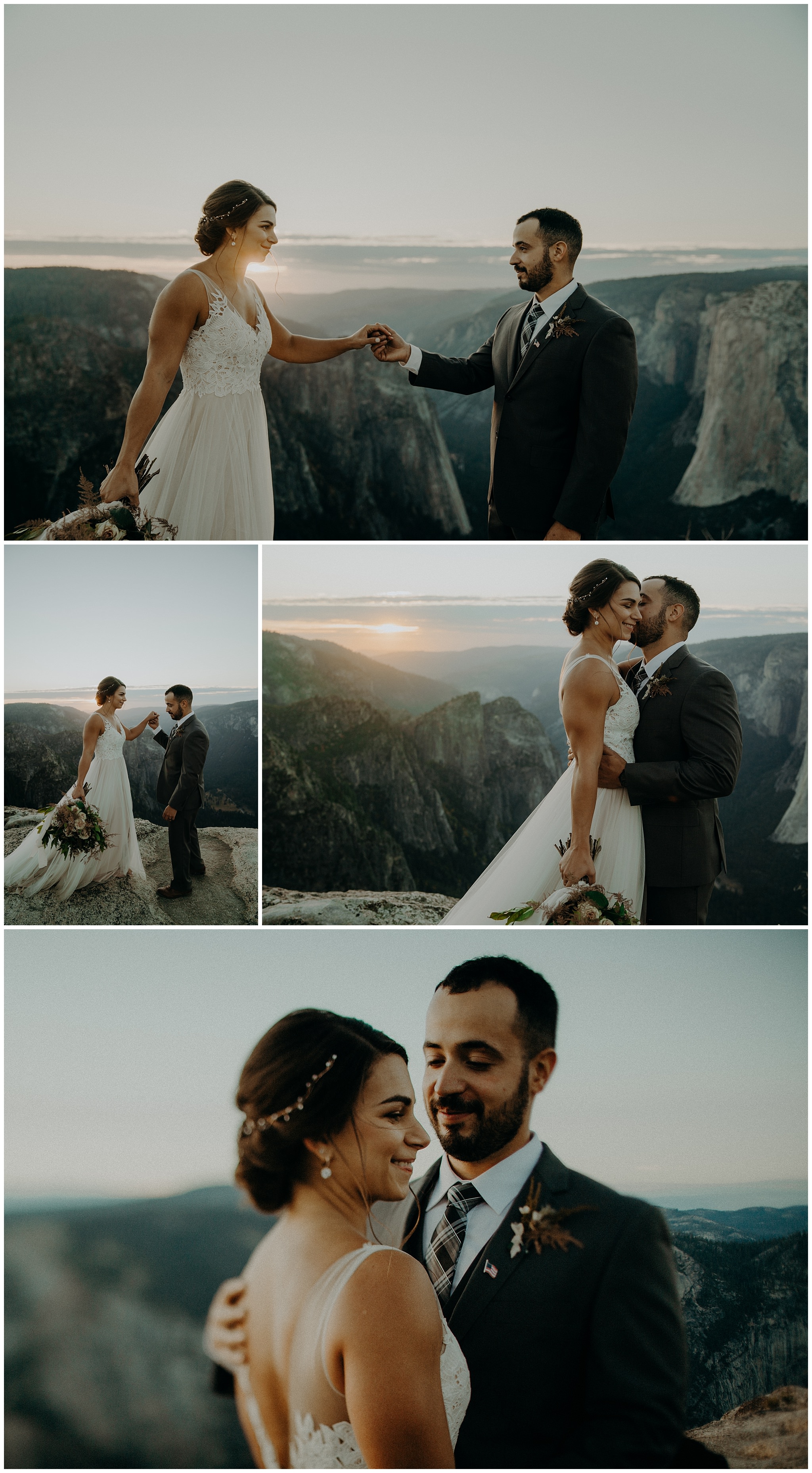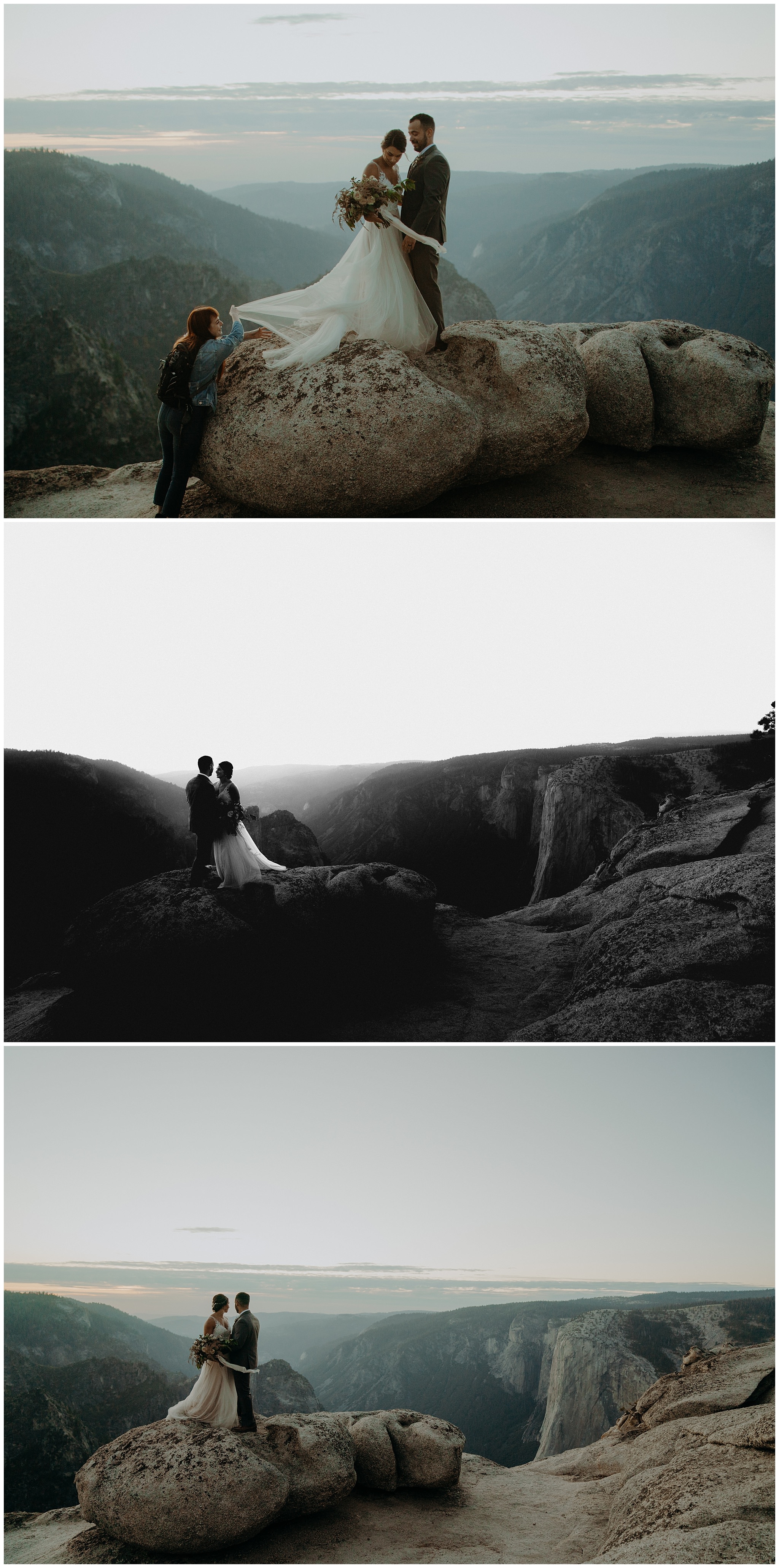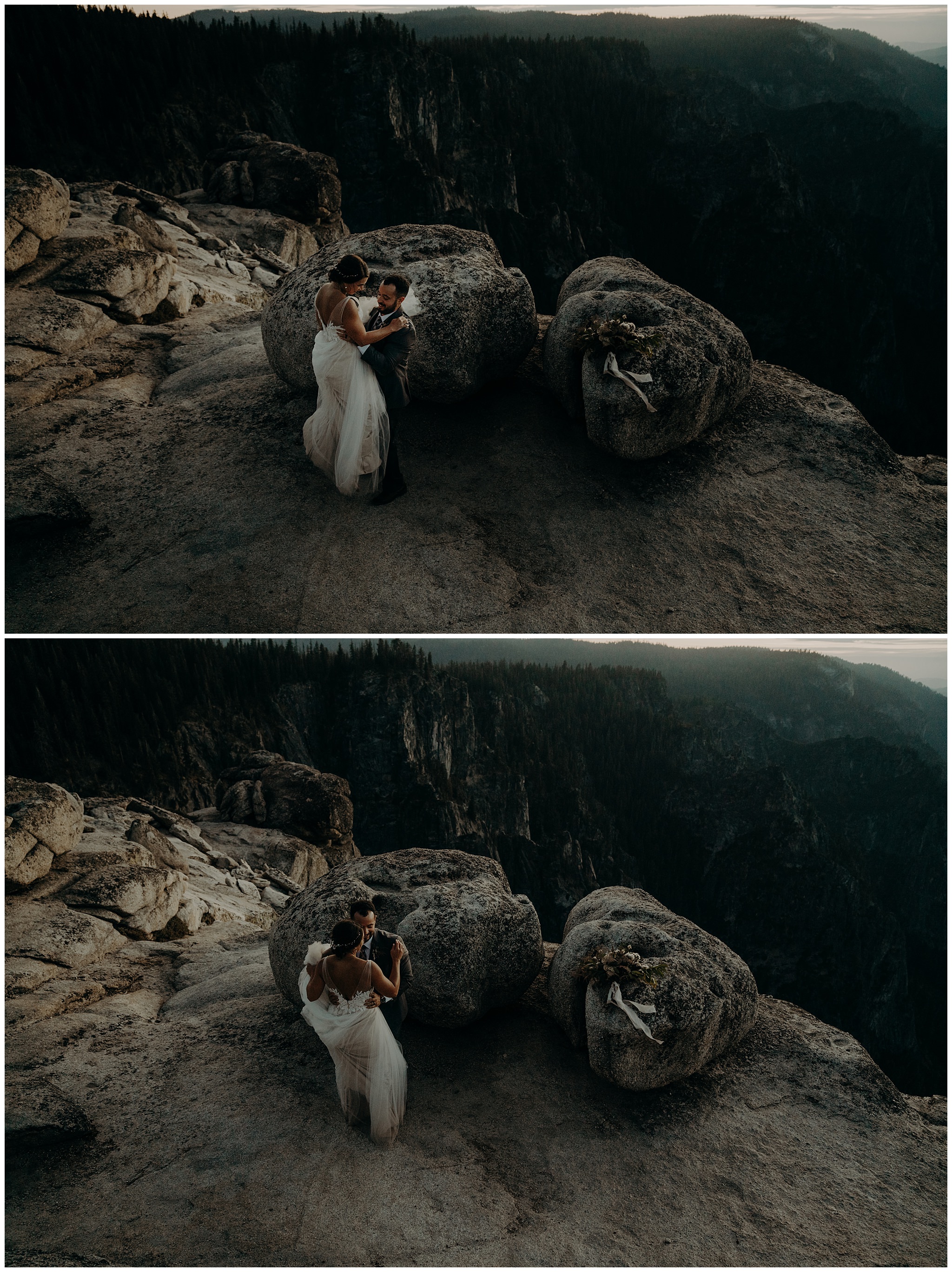 I freaking live for this. Being a Yosemite elopement photographer is something I truly cherish. If you're planning an elopement or intimate wedding at Yosemite National Park, be sure to reach out! I have dedicated elopement packages for Yosemite and am always happy to make the trip 🙂